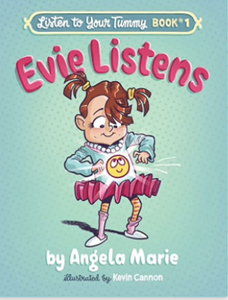 "What's inti . . . intu . . . intuition?" Evie asked.
"Well," said Auntie Jane, "intuition is the little helper in my tummy. Everyone has intuition. Even you, Evie!"
Evie Listens: Listen to Your Tummy encourages young readers and grown-ups to tune into the voice of their own intuition. Intuition is already inside you. All you have to do is listen!
About the Author: Angela Marie is a writer, healer, and guide from Minnesota. Angela studied early childhood education which solidified her love of teaching and literature. After a lifetime of utilizing her intuition and strengthening that connection through more intentional studies, Angela has decided to use her teaching skills and love of writing to create a book series teaching children (and adults) about their constant best friend, their inner compass, the helper in their tummy: their intuition.
About the illustrator: Kevin Cannon is a cartoonist and illustrator. His cartoon maps have appeared in newspapers, magazines, and anthologies nationwide. Kevin has illustrated numerous children's books, including Ben and Lucy Play Pond Hockey, What Does a Screen Mean?, and Riker's Taxi Troubles. He lives in Minnesota with his wife, Maggie, and son, Ulysses.