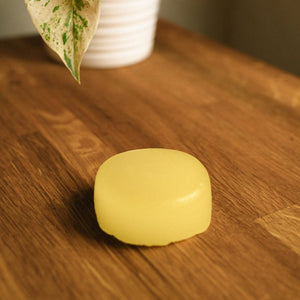 All Natural and Plastic-free Conditioner Bar
Cruelty Free Chamomile conditioner bars are making haircare easier with simple non toxic ingredients! Simply rub the soap directly onto hair or rub between hands and apply it onto hair for an effective clean. Chamomile is known for its calming properties and will leave your hair feeling relaxed and smoother than ever!
For all hair types. Essential oils rejuvenate & strengthen hair while leaving it tangle-free. 
Complement your routine with our matchingshampoo bar.
Not recommended for use in children under 4 years old for swallowing precautions.