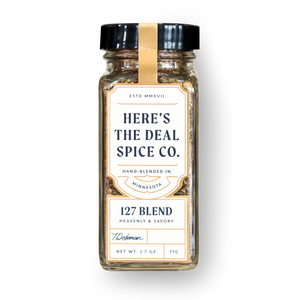 Heavenly & Savory
127. The blend that started it all. A distinct and yet universal mix of organic herbs and spices that add the perfect amount of savory comfort to any main or side dish.
 
Favorite Applications: Ribeye Roasts, Rotisserie Chicken, Eggs, Vegetables, Pasta and Oven Roasted Potatoes, Holiday Turkey
Ingredients: Garlic, Kosher Salt, Black Peppercorn, Onion, Sunflower Oil, Paprika and Other Natural Herbs and Spices.
Organic. Vegan. No MSG. Gluten Free
Shelf Life: 2.5 Years