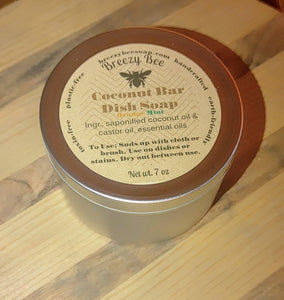 Get rid of single-use plastic, one step at a time! This eco-friendly, natural dish soap is easy to use, and it cleans tough grease effortlessly.
Coconut oil has good cleansing properties. Each tin will last approximately 3-8 months in your kitchen.
To use: wet a small brush or cloth and suds it up with soap. Allow to dry out in between uses to extend the life of the soap.
Ingredients: coconut oil, distilled water, sodium hydroxide (lye), castor oil, essential oils.